Start
Getting Started with Zotero
Zotero (pronounced "zoh-TAIR-oh") is a software program that collects, manages, and cites research sources. It's free, easy to use, and works with your web browser as you search.  With one click, Zotero will save web pages, books, PDFs, abstracts, and almost anything else with all its citation information.
Zotero allows you to attach PDFs, notes and images to your citations, organize them into collections for different projects, and create bibliographies.  You can access your citations from multiple computers and share them with colleagues.
This program is open source and being updated with new features and bibliographic styles all the time.
For a look at more of Zotero's features, read the Zotero Quick Start Guide.
This guide is intended to get you set up and ready to use Zotero's most obvious features to improve your research and citation management.  If you are looking for help with a specific problem, try the Zotero website  or contact someone on UNB Libraries' Zotero team.
Contact Us
Fredericton
Saint John
The content of this guide is modelled on Harvard University's Zotero: Getting Started guide, the Zotero Quick Start Guide, and Jason Puckett's Zotero Guide at Georgia State University.
The content in this guide is licensed
Step 1: Install
Download Zotero
Zotero operates mainly as a desktop application but syncs with an online account which allows it to be active and up-to-date on more than one desktop. Zotero Standalone works for Mac and Windows (but not Chrome Books), and can be used with Safari, Chrome and Firefox.  Installing the Zotero client requires downloading and installing a program for your operating system (Windows or Mac) and then installing browser extensions or add-ons to allow the client to talk to the browser.
Visit zotero.org/download and select Zotero 5.0 for Windows or Zotero 5.0 for Mac depending on your operating system.  Download the application and save the file to your computer.
Next download the connector for Firefox, Chrome, or Safari.




Allow the Extension or Add-on to install.


---
Configure the Resolver
The Library Lookup option in Zotero enables you to track down physical or electronic items in your local library catalogue.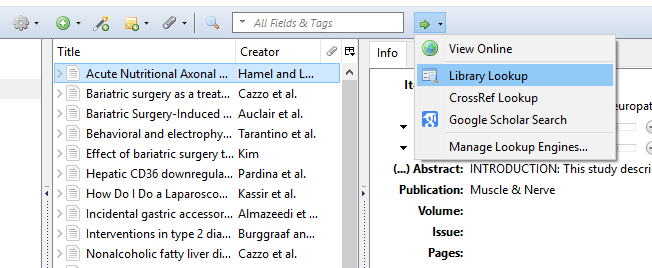 You can specify your preference to use the OpenURL resolver of UNB Libraries in the Advanced tab of the Zotero Preferences.
In your Zotero dialogue box, go to Tools, select Preferences, and choose Advanced.
Select Custom and set the resolver to https://unb.on.worldcat.org/atoztitles/link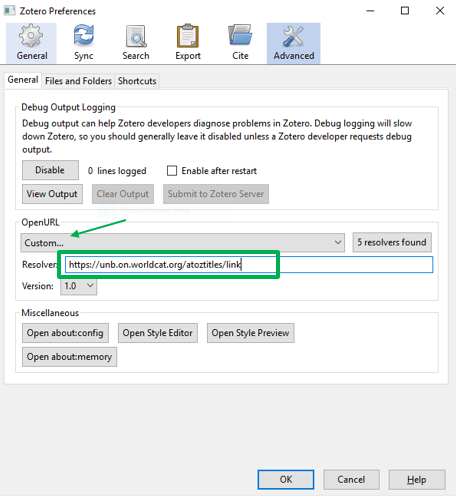 ---
Get a Word Processor Plugin
One of the most powerful features of Zotero is the ability to use your citations in papers as you write them. Zotero will keep track of everything and produce a bibliography at the end. Zotero should connect with Word automatically when you download it. If this fails, follow the instructions below.
Open Zotero
Windows: Look for a tab called Add-Ins or the icons shown below in your toolbar.
Click on the gear symbol in the top bar and select Preferences from the drop-down menu.
In the Cite tab, click on Install Microsoft Word Add-in to get the latest version of the Microsoft Word or LibreOffice plugin. Make sure to choose the right platform (Windows or Mac).
When prompted, click Allow, then Install Now.
Restart Word or OpenOffice/LibreOffice.

Step 2: Create & Sync Accounts
Register Your Zotero Account
You need to register your account and log into Zotero in order to sync your Zotero connector with your Zotero desktop program. Doing this creates a connection between your desktop application, your cloud account, and your browser connector that allows you to use the full range of Zotero's features.
Go to the Zotero Registration page.
Complete the form to register for an account at zotero.org.
Check your email and click the link from Zotero to register your account.




Open your Zotero desktop application and find the Edit option in the top left. Select Preferences.




In the Sync option, enter your username and password from your online account. Then click OK.


Zotero on UNB's lab computers and borrowed laptops
Lab computers and borrowed laptops at UNB
There are 4 steps to access Zotero on the lab computers and borrowed laptops at UNB:
Open the Chrome browser and make sure that it is not in incognito mode (to take it out of incognito, press Ctrl+N for a new window).
Download the Zotero connector for Chrome from the Chrome Web Store (https://chrome.google.com/webstore/category/extensions). You will need to do this for each session.
Open the Zotero desktop application, which is already installed on the lab computers.
Sync your Zotero account by following the instruction in this guide's Create and Sync Accounts tab.
If there is no Zotero shortcut on the desktop, look for Zotero in the Windows start menu that provides an alphabetical list of programs.
Feel free to explore the cloud version of Zotero (https://www.zotero.org/) to add and edit citations.
Step 3: Save Citations
Save Citations in Zotero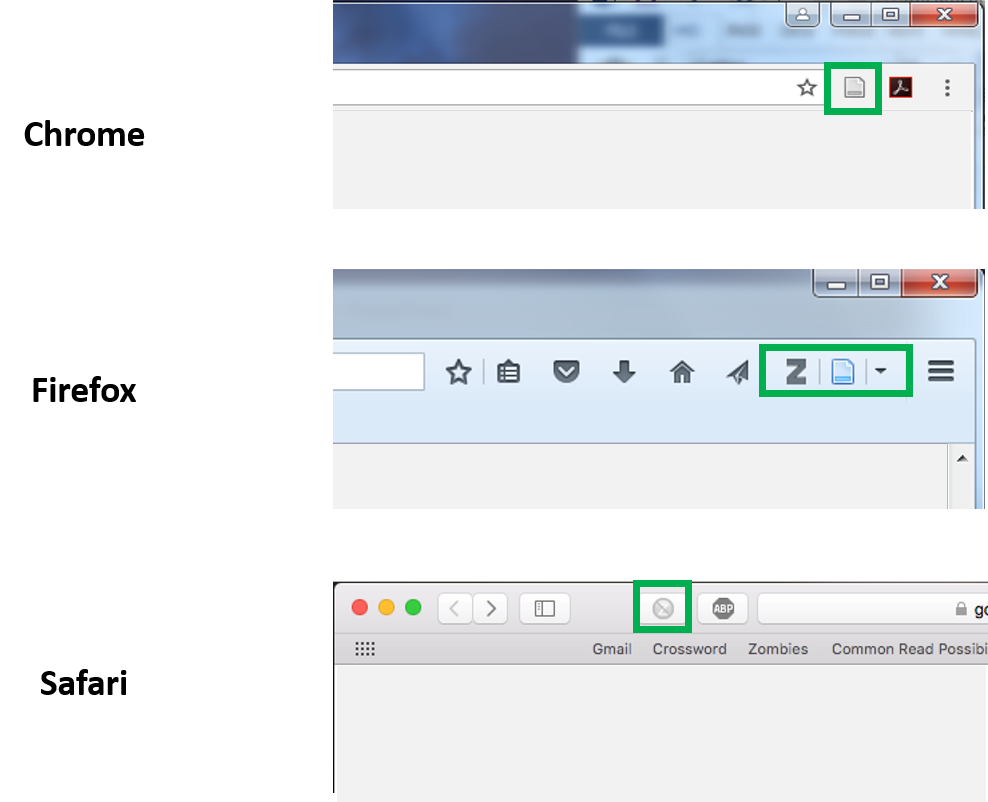 In most databases, you can save a single citation by clicking on the icon in your browser. Zotero's desktop application must be open for this to work.
In the event that the browser connector does not capture the citation information from a database, you can download citations manually by following the exporting/importing instructions.
---
Save Multiple Citations
After searching a database for your topic of interest, you can save journal articles and other search results in bulk to Zotero.
When viewing a search results screen in a database Zotero will display next to the to the right of the Firefox address bar or in the address bar.
Click the icon, and a small window will open.
Select which items you'd like to save, and click OK.
Zotero will automatically download PDF copies of the articles you have chosen as well as their citation information. If you capture a citation that does not have a PDF associated with it, you can attach one by dragging and dropping it into the citation in the Zotero application.
---
Create Collections
Zotero organizes your research into collections that act like folders. You can add a citation to any number of collections or subcollections.
Create a new collection by clicking the folder icon above the library pane.
Create a subcollection by right clicking on an existing collection and selecting New Subcollection.
---
Add Content to a Collection
When saving citations for a particular project, you should make a Collection for that project and save everything related to the project in it.
In the Zotero window on the left side, click on the Collection you wish to save citations into.
In your browser toolbar there will be an icon next to the Zotero button. The icon changes depending on what type of citation will be saved. Click on that button to save the current webpage to Zotero. A pop-up will appear stating that it was saved to the Collection you have open.
When you open the Collection, the citation you just saved will be in that Collection with all the citation information.
Step 4: MS Word
Get a Word Processor Plugin
One of the most powerful features of Zotero is the ability to use your citations in papers as you write them. Zotero will keep track of everything and produce a bibliography at the end. Zotero automatically installs the add-in in MS Word or OpenOffice/LibreOffice. However, if the Zotero add-in does not appear once you open MS Word or if a software update disables it, follow the steps below:
Open Zotero
Select Edit and Preferences from the top-left, drop-down menu.
In the Cite option, select the Word Processors tab, click on Install Microsoft Word Add-in to get the latest version of the Microsoft Word or LibreOffice plugin.
When prompted, click Allow, then Install Now.
Restart MS Word or OpenOffice/LibreOffice.
Mac OSX: In some cases, you may either see this toolbar in a separate window or you will find a Zotero menu in the Applescripts menu pictured below.
---
Start Inserting Citations (MS Word for Windows)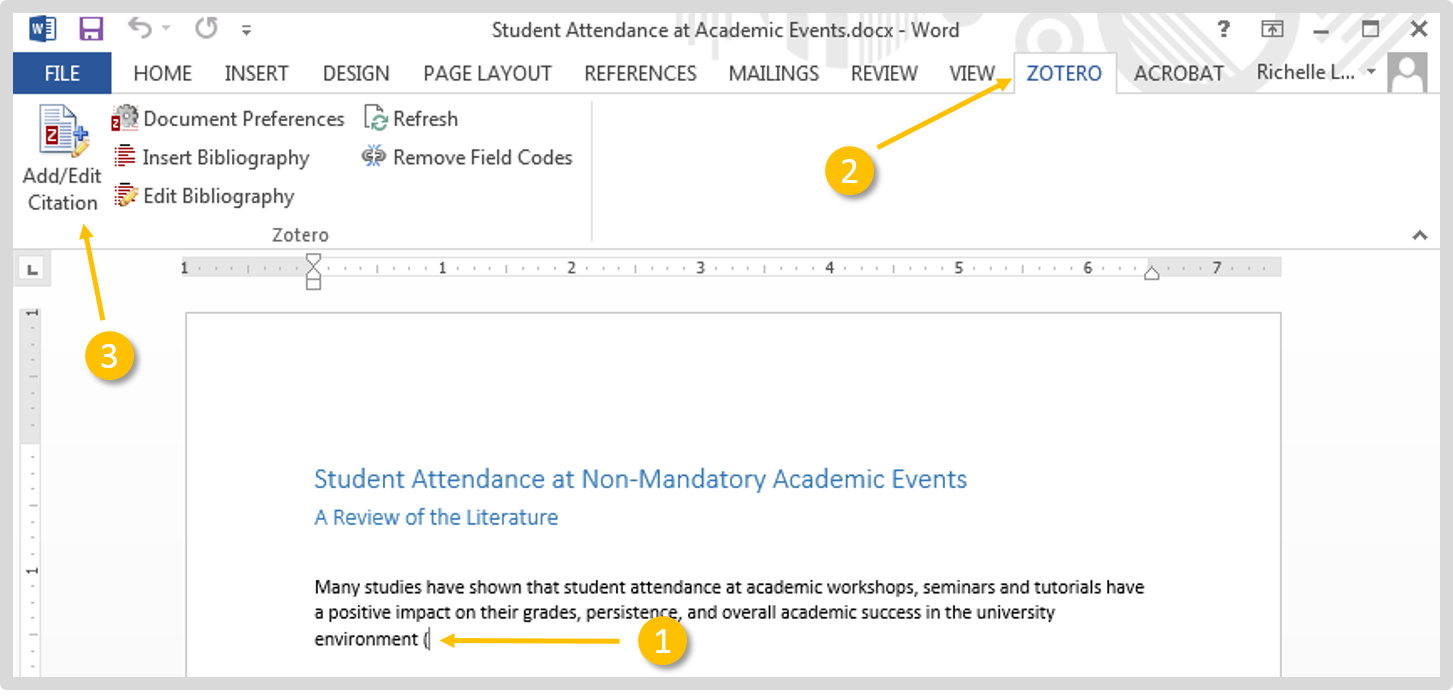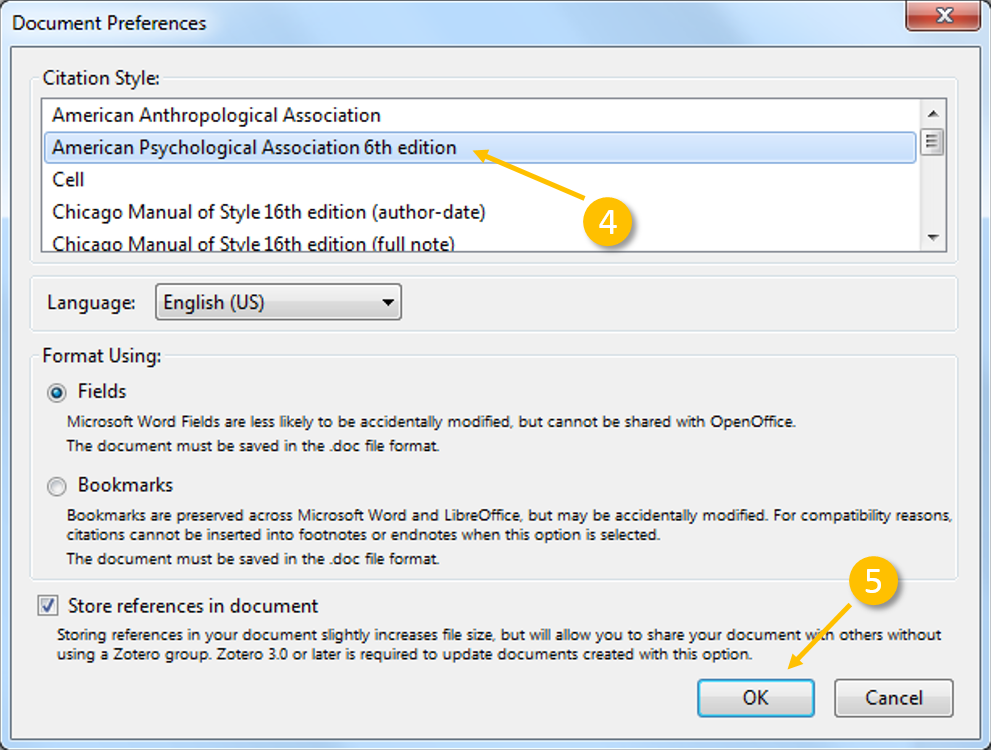 Open Microsoft Word and place your cursor where you would like to add a citation.
Select the Add-Ins tab if using MS Word, or otherwise find the Zotero toolbar.
Click the Zotero Insert Citation icon.
The first time you insert a citation in a document you will be required to choose a citation style. You can change the citation style at any time when you are writing.
Press OK.
---
Changing Citations
Once you have added a citation to your Word document, you can edit it by changing the citation information in the Zotero window. These changes will be reflected in your Microsoft Word document automatically.


Open the Zotero window and find the citation you wish to change.
Edit the information in the sidebar.
Return to the MS Word window and click on the Refresh button. Your citations will now be updated with the new information.
If you need to include page numbers, you can insert the citation as usual and then follow the following steps: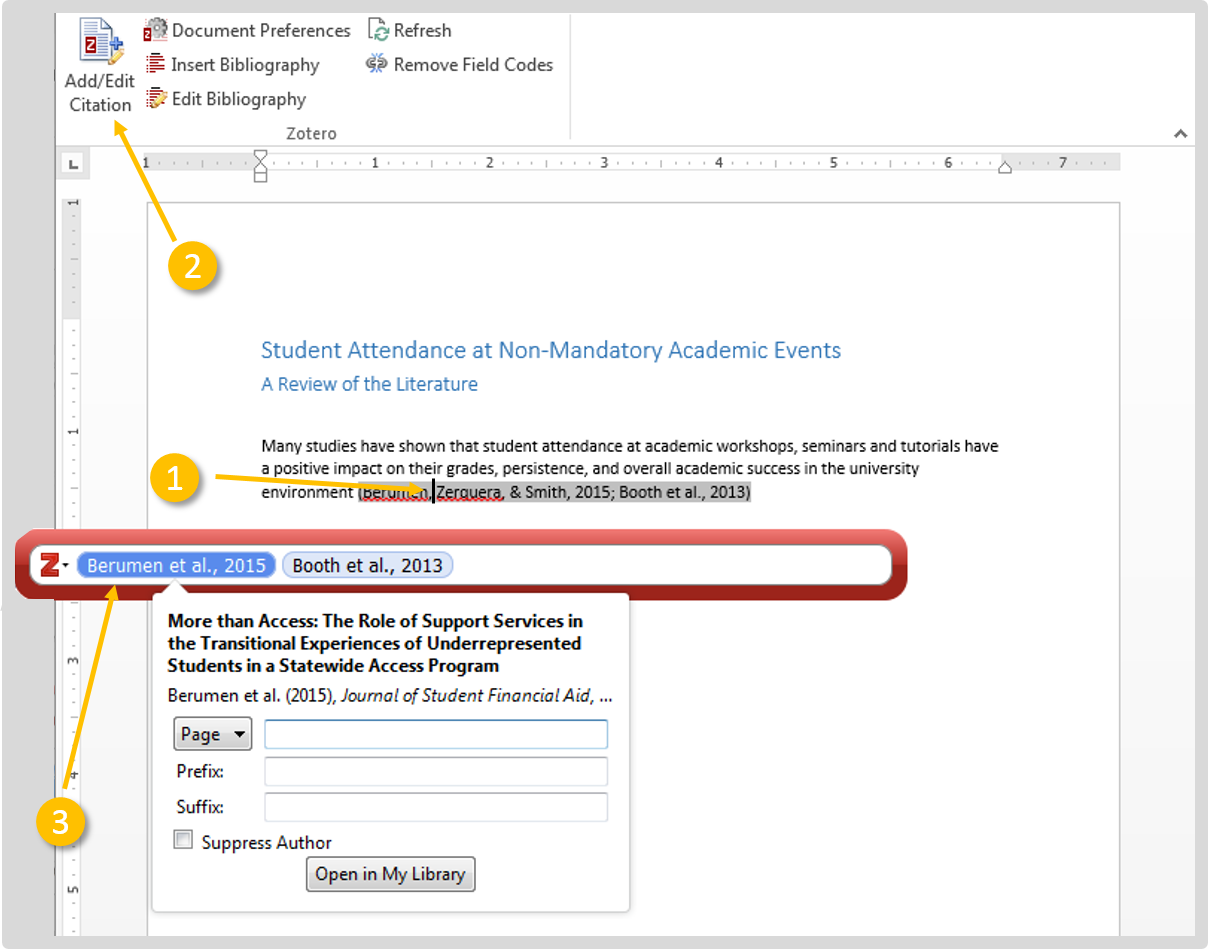 Place your cursor in the citation.
Click on the Edit Citation button.
In the Zotero bar, click on the citation to make a small menu appear.
Add your page numbers to the citation.
Press Enter to have your citation updated with the new page numbers.
Note that your original citation in Zotero has not changed, so you can insert the same citation multiple times with different page numbers using this method.
If you need to cite multiple sources in the same location: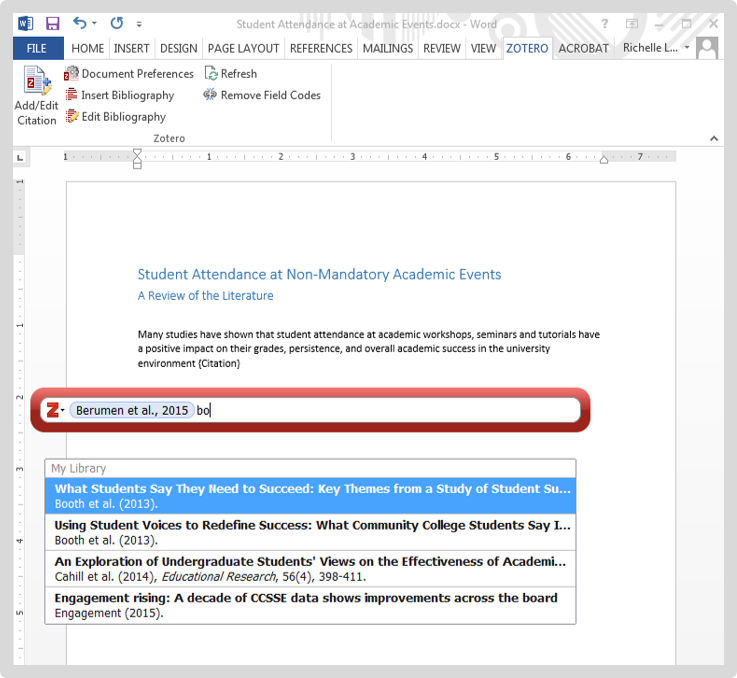 Place your cursor in the citation.
Click on the Edit Citation button.
When the Zotero bar appears, search for and select the new citation.
Press Enter to to have your citation updated.
---
Add Your Bibliography
When you are done adding citations, click Insert Bibliography. Zotero will insert a fully-formatted and alphabetized bibliography in whatever style you have previously chosen.
Zotero Groups
Zotero Groups
Zotero's Group tool allows you to create a library and share it with other Zotero users. Groups is a collaborative tool that allows members of the group to add to and edit a common library, making it possible to work together remotely and in real-time.
Creating a Group
Go to the Zotero website and login.
Select the Groups tab towards the top of the page.
Click Create a New Group.
 


Name your group.
Select type of group membership (details are provided on the page; for most uses, Private is recommended).
Click Create Group.




Set the editorial permissions for the members in your group.


Adding Members to a Group
Return to the main Groups page on the Zotero website.
Select the Manage Members option associated with your group.




Select Send More Invitations and enter the email address of the person you wish to invite to your group. If the invitee has more than one email address, you will want to use the one that is associated with his/her Zotero account.




The invited member may accept or decline the invitation.
Note: It is possible for the owner of a Group to remove members. Members are not notified upon removal.
Quick Information
Before You Share
Consider editing records before adding them to a group folder. Edits made after something has been shared will only apply to the item being edited.
Shared Library
Moving a record from a private folder to a Group folder also moves all the attachments and notes that already exist in the record.
Moving content from a private Zotero folder to a Group folder does not remove that content from your private folder. It is duplicated and treated as completely unrelated to the original content.
Deleting content from a Group folder does not delete it from a private folder, but it does delete it from the Group folder of everyone in a group.
Editing and note taking done in a Group folder does not affect the same item in a private folder.
If an attachment is removed from a Group folder, it is not altered in a private (unshared) folder.
Deleting the PDF (or any other attachment) from a record in a Group folder will also delete it from any copies of that record that exists in other sub-folders of the Group folder. It will not affect private folders.
Items that are accidentally deleted from a Group folder go into the Group trash and can be retrieved for a short time.
Member Permissions
Editing permissions in Zotero Groups are all-or-nothing. All members of the group (apart from the group owner/creator) are affected by the permissions that are set.
More Tips & Tricks
Import Your PDFs & Extract Their Metadata
If you already have PDFs saved on your computer, you do not need to add them all manually to Zotero. Zotero is capable of using Google Scholar to fetch citation information automatically.

---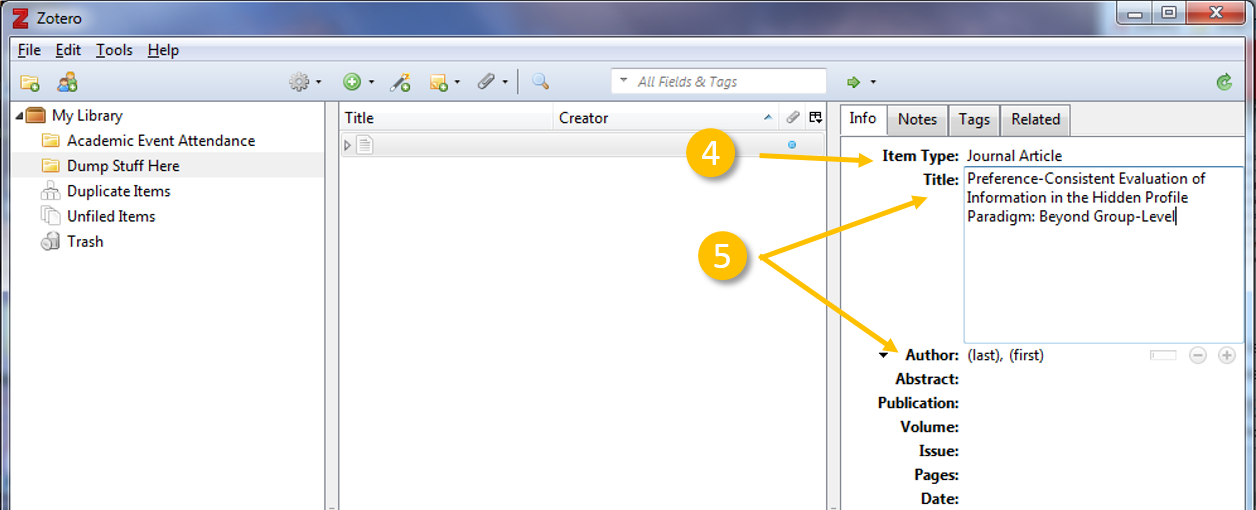 Drag and drop your PDF into My Library or another existing collection.
Highlight the item you added and right click. Choose Retrieve Metadata for PDF.
Zotero will now search for the citation information for that article.
If retrieving metadata does not work, or the information is incomplete, you will need to manually add the information to the item. To do this, right click and choose Create Parent Item from Selected Item.
Now, you can fill in the information for the item manually. Choose the correct document type first to make sure the formatting is correct.
Then type in the citation information, such as the title of the article and the author(s).
---
Import Existing Bibliographies into Zotero
If you have a formatted bibliography or a list of citations that have been created as ".txt" or ".docx" files and would like to import them into Zotero, you can use tools such as AnyStyle, cb2Bib, text2bib to harvest the citations by converting your original files into Zotero-compatable ".ris" or ".bibtex" formats.
For more information, go here.
---
Create an Annotated Bibliography
You can use Zotero to create an Annotated APA or Chicago Bibliography.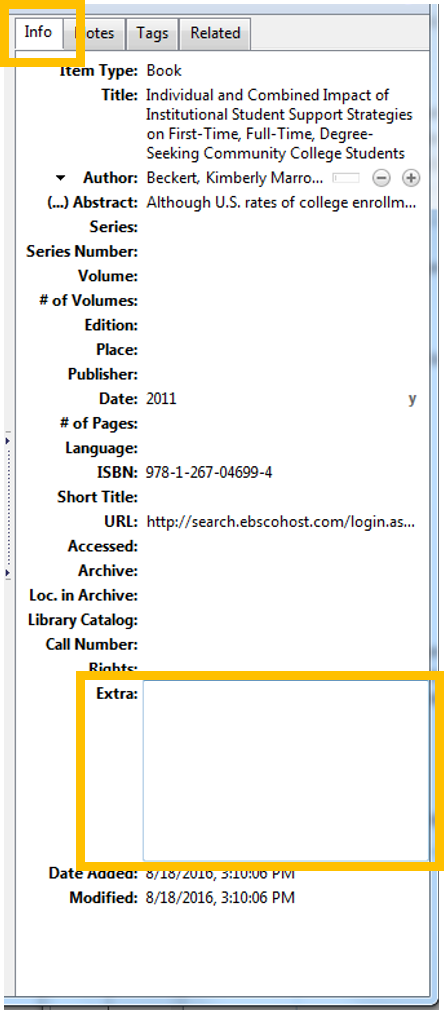 Access the Zotero Style repository using the instructions above or by going directly to the Zotero Style Repository.
Download one of the following two styles from the Zotero Style Repository:

APA: Download the style "American Psychological Association 6th edition (annotated bibliography with abstract)."
Chicago: Download the style "Chicago Manual of Style 16th edition (note, annotated bibliography)."

Open your Zotero library and select the item that you want to annotate. In the "Info" tab on the right-hand pane, w

rite the annotation in the "Extra" field. Repeat this step for each item that you want to include in the annotated bibliography.

Open your word processing document and follow the standard process for inserting a citation into your document (see the directions above). When prompted to choose your citation style, select the Annotated Chicago or APA style that you just downloaded.
---
Adding Books By ISBN
Have the book in front of you and want to add it to your Zotero library without having to search for a citation?
If you have a book's ISBN, an online article's DOI or PMID number, just click the magic wand button: "Add item by identifier." Type in the book or article's number, and Zotero will automatically download its information and save it to your library.
---
Getting New Citation Styles
If you do not see the style you want listed in Zotero's standard styles, you will need to download your desired style from the style back. There are several steps to this process.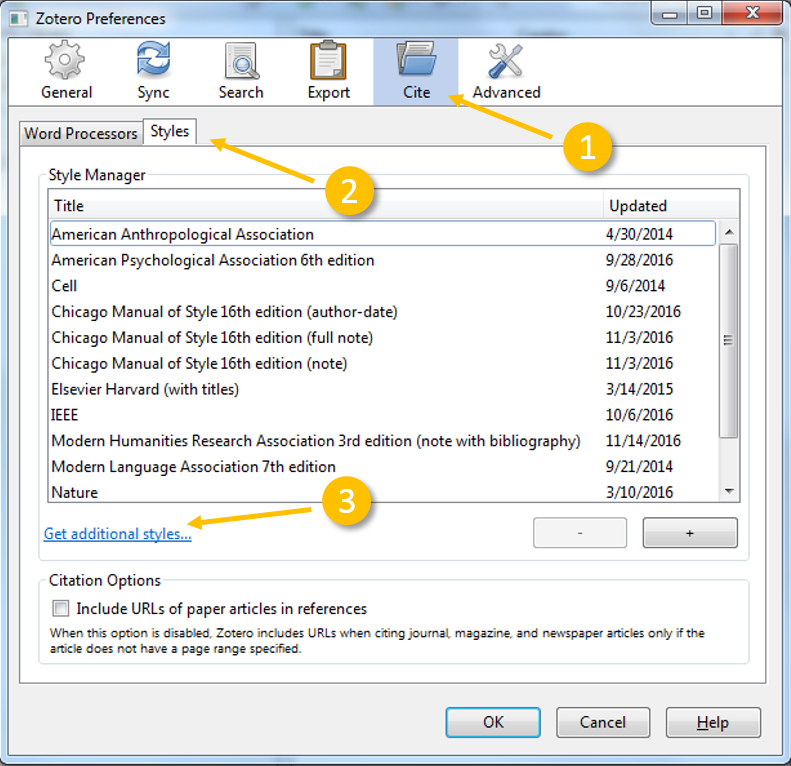 Open Zotero's Preferences.
Click on the Cite option at the top of the preferences pane.
Select the Styles tab.
Click on Get additional Styles..., which is located below the standard list of styles
Find the style you want and click on the title. Click on Install. The style will be added to your options in both Zotero and Word.
---
Use Zotero on Mobile
You can use Zotero on your tablet by installing a Bookmarklet: a special link that saves items directly to your Zotero account on the web.
You must be logged into your Zotero account and your phone or tablet must be online to use Zotero.
Open zotero.org/downloadbookmarklet in your tablet's browser (Safari, Chrome, IE) and bookmark it.
Click the type of browser you are using in the left-hand menu
Follow the instructions on the page.
When you're on a page you wish to cite, select the Save to Zotero bookmark. The browser will save the citation directly to your Zotero library online.
Video Tutorial
Zotero Video Tutorial
This video tutorial mirrors the instructions in the research guide, while also offering a live demonstration and answers to commonly asked questions. If you only want to watch one section of the video, there are time stamps in the video description that will help you jump ahead to the information you need.
More Information
Richelle Witherspoon (Profile)
Information Services Librarian
UNB Fredericton
---
Aggie Sliwka (Profile)
Library Assistant, Reference & Copyright Services
UNB Fredericton
506-453-5017